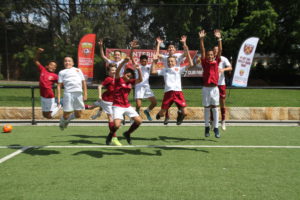 I.S.A ELITE PLAYER DEVELOPMENT PROGRAM
Designed for only those who are willing to excel.
This program is only for a maximum of 40 players, aged from 8 to 13 years.
I.S.A TARGET PROGRAM – HAMMERS
I.S.A Target Program is for the more elite player. This will be based on performance in training and matches with the emphasis on looking to achieve results in games. This program takes place twice a week with weekly competitive fixtures against other Academy teams of all abilities within the I.S.A Pro League Tournament. The coaching provided in these evenings will be geared towards a winning attitude and the focus will be on team play, fitness, understanding and technique with collective roles and responsibilities our aim. Focussing on both mental and physical development will allow players to exceed to the next level of football where we try to get the players prepared on positions tactically and through game awareness.
With the target program we will also focus on finding pathways to challenge the better players.
I.S.A DEVELOPMENT PROGRAM – IRONS
The key word here is development. The emphasis on this program will be about developing the players to take them to the next stage. This will be done with the emphasis and focus being on technique. The games program will focus not on a results driven but more on development. Our ISA Development Program is a learning module where we will aim to bridge the gap between the two programs.
In this stage we look at focussing on giving the kids all the support they need in order to perform and understand the game. To help we provide small sided games in order for the kids to enjoy the game and have more and more touches of the ball allowing them to express themselves and use all the technics they learnt without fear.
It will still be a competitive program but the winning is not our emphasis.
I.S.A FUNDAMENTALS FOUNDATIONS PROGRAM – BUBBLES
Our I.S.A Fundamentals Foundation Program is for the younger player, this program is for players who could possibly be starting out their football career. They may never have played football before and this is an ideal introductory module. Our focus will be a no fear of failure attitude with creativity and expression heavily involved in this module. The emphasis of the game being the teacher. In this stage football is learning in a fun environment and letting the kids express themselves and learn all the basic skills in more friendly and relaxed environment where the main aim is to let then have FUN. This is followed by many countries all over the world and is one of the best ways some of the best players have learnt the game, like Cristiano Ronaldo and Lionel Messi.
We will focus on players having touches on the ball and their decision making (player centered approach).
Training: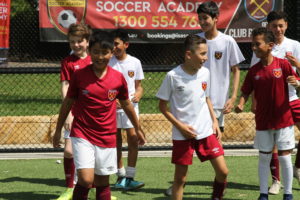 Tuesdays – 6.30pm to 8.00pm
Thursdays – 6.30pm to 8.00pm
Extra Lessons:
Thursdays – 6.30pm to 7.30pm
Games: Every Saturday for all ages